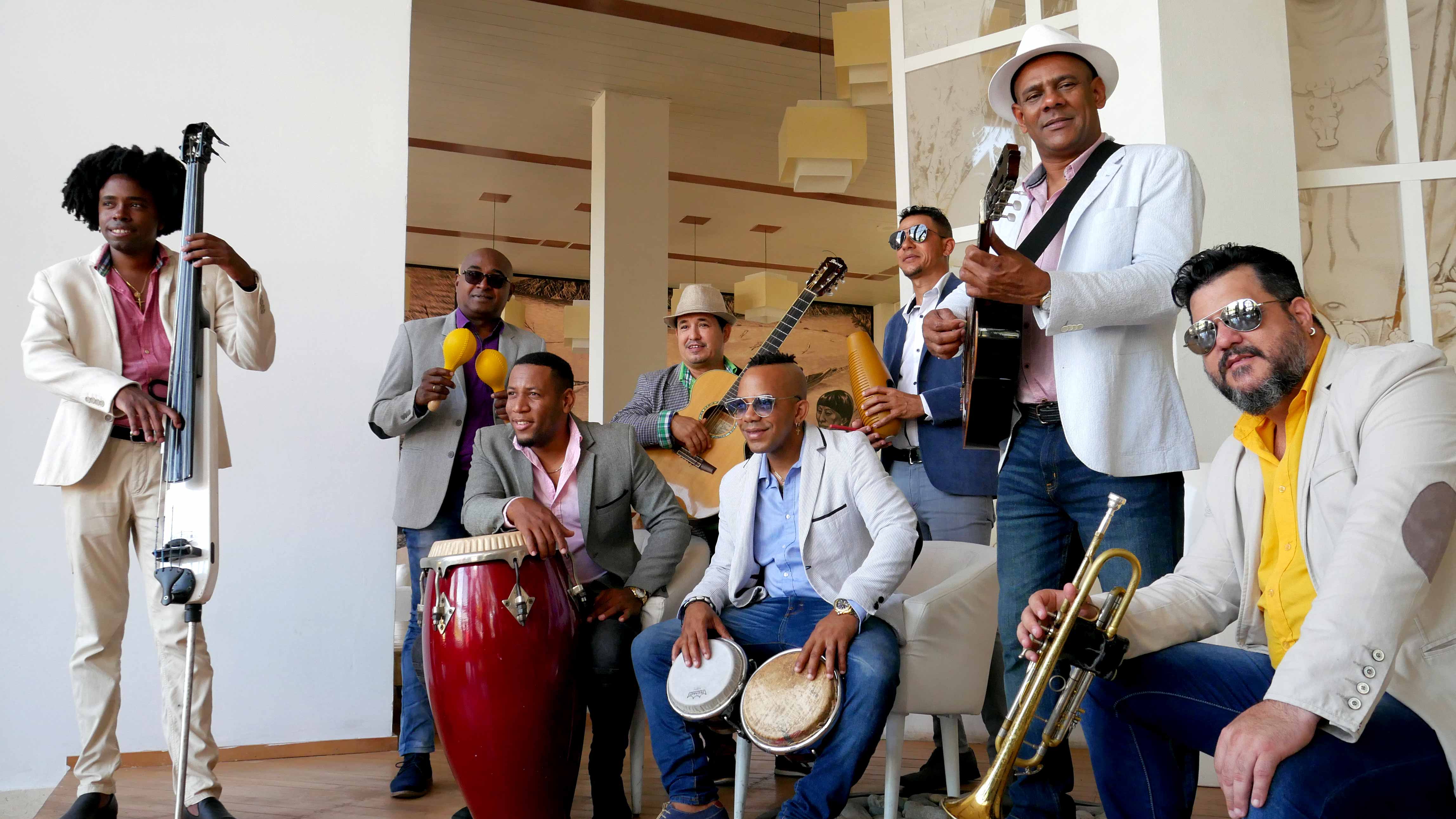 Since its foundation on February 2, 1995, the Septeto Santiaguero has remained deeply linked to the Santiago Trova and traditional cuban music. Born from" Melodies of Yesterday", legendary group of the Casa de la Trova, its director, the Maestro Fernando Dewar, decided to change his name with the aim to positioning his work in international and cuban settings with a bigger commercial vision. "We make traditional music for dancers and for young people, it is the only way to make it transcend, that new generations like it" Dewar has said on several occasions, and this is what his group corroborates with the energy that overflows on stage, where there is no age for enjoying it. Since the beginning, the Septeto Santiaguero has performed on important international stages in Spain, Germany, France, Austria, Belgium, Croatia, Holland, Hungary, England, Italy, Mexico, Portugal, Switzerland and others. He has also had the opportunity to share the stage with important figures of art inside and outside the country, such as Rubén Blades; Gilberto Santa Rosa; José Alberto, The Canary; Oscar D 'León; Alexander Abreu; Pancho Céspedes; Omara Portuondo, among others. In Cuba, they have performed on many stages, from squares and theaters to very secluded city districts. They are also recognized for their elegance, their good mood and the charisma which allows them to share emotions with their public. His repertoire is a journey through different aspects of Cuban popular music, with an emphasis on the traditional one. They manage in a very personal way pieces of legendary authors of Cuban music such as Miguel Matamoros and Ñico Saquito, combining with the work of more contemporary authors, some of them members of the group itself. His musical base is about Son, La Guaracha, Bolero, Changui, Bolero-Son and other genres.
The sound of Santiaguero is overwhelming, a walk that goes from classic to contemporary with great elegance and rhythmicity. You can enjoy every performance together with the audience. The songs appear one after the other according to their tastes, their requests, nobody is left wanting. From Changüí to Bolero, from Son to Merengue, having fun is part of each presentation.
Winner of Two Latin Grammy Awards, in 2015 for the CD "No quiero llanto. Tributo a Los Compadres"and in 2018 for the record production"A mi qué. Tributo a los clásicos cubanos", Septeto Santiaguero is currently one of the most important exponents of traditional Cuban music.
In this 2019 they undertook their first national tour "Guarapachanga for Cuba" with which they have toured various stages of the country, always followed by a devoted audience, deeply expert of their songs and defender of the genre among contemporary Cuban music.
Yes, they are prophets in their land, and it is usual to find them on Tuesdays at the Casa de la Trova and on Fridays at the Casa de la Música La Pachanga, places where cuban and foreign dancers always take part to enjoy the excellence of traditional cuban music.
Close to achieve 25 years of artistic life, Septeto Santiaguero announces in the coming months the presentation of a new CD where they are collecting their great successes, and very soon it will be available in the bookstores an extremely enjoyable book, very close to their history.
Founded in 1995 in Santiago de Cuba, Septeto Santiaguero is considered one of the most important band of traditional Cuban music.
http://suenacubano.com/septeto-santiaguero/
"We absolutely needed what Septeto Santiaguero has been doing for a long time. There is no group that does it better, because of its originality and the passion they put on it. "
César Pupi Pedroso
https://www.arteporexcelencias.com/es/ellos-que-nuevo-disco-del-septeto-santiaguero-y-el-canario César Pupi Pedroso
Neither too young nor too old, this band is the best example of cuban son of the new millennium.
https://www.cancioneros.com/
The Septeto Santiaguero is one of the most definite references of Cuban music on an international level.
Revista World Music